Casio WK-220 Electric Keyboard 76 Key (WK220)
Casio WK220 at a glance…
· Touch Sensitive Keyboard
· 76 Piano Style Keys
· 600 High Quality AHL keyboard voices
· 180 rhythms
· 152 songs
· 10 digital effects
· Registration memories
· Arpeggiator
· Rhythm editor
· Chord book function
· Piano/organ setting button
· USB plug & play/song expansion
· Sequencer (recorder)
· Audio and microphone input
· Headphone/Audio output
· Five-year manufacturer's warranty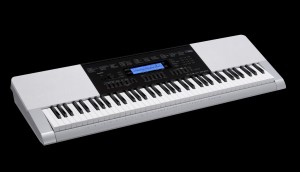 With the WK220, Casio have really created something special…
Featuring 76 touch sensitive piano style keys, the Casio WK220 is a Portable Arranger Keyboard that is not only ideal for people wanting to learn to play the piano or keyboard, it has enough high quality tones, rhythms and features to suit live performance.
600 superb AHL keyboard voices along with 48-note polyphony, make the WK220 suitable for even the most eclectic musical tastes.
180 on board rhythms (styles) cover just about any musical idiom. Casio have really listened to musicians and have included a very special feature not seen before at this price – you can change the rhythm mid song (to add a little extra spice) and the tempo does not change.
This feature may not seem to be important…unless you are playing live, then it could be the difference between you sounding like a pro or…
If you are a beginner, the three-level Step-up learning system and various entertainment functions provide the perfect opportunity for creative development.
The WK-220 offers an amazing array of high-quality professional keyboard voices, engaging rhythms and songs across all music styles.
For those of you with a focus on playing piano, when you buy your WK220 from us, we will include an Italian made Quicklok Piano Style sustain pedal with a retail price of $89.00 absolutely free of charge! We will also include a Keyboard Stand…free of charge!

High Quality Tones
All of the 600 built-in tones, including piano and acoustic instrument tones, now sound better than ever before! 48 note maximum polyphony provides plenty of margin to minimise the chance of notes being dropped when tones are layered and when playing with Auto Accompaniment.
Piano Style Keyboard
An easy to play keyboard with 76 keys styled in the fashion resembling that of an acoustic piano.
Touch Response
Touch Response lets you add delicate nuances to notes by varying how much pressure you apply to keyboard keys.
Recording
Built in is a 5 song, 6 track recorder where you can compose and store your own music. A great tool for capturing your creative moments as well as for practicing.
Step-Up Lesson
Use the step up lesson feature to learn new songs. You can even load in your own user songs (SMF format, via computer USB) and the keyboard will help you learn.
Chord Book chord book
You can use the Chord Book to look up chords you do not know how to play. You can hear what a chord sounds like and view on the screen the notes that make up that chord. It can even show you inverted forms of the chord, making the Chord Book a valuable reference.
Registration Memory
Using Registrations, you can save your favourite setups, including tone, rhythm, and other settings for instant recall when you need them. Registration memory simplifies performance of complex pieces that require successive tone and rhythm changes.
Sampling Function
You can sample a sound from a portable audio player, or other device, and then play the sound on the keyboard. You also can use sampled sounds to compose music. The sampling feature is a great way to create new sounds that are highly creative.
Audio In / Mic In
Connecting a music player to the AUDIO IN jack causes the audio from the player to be output through the keyboard's speakers. Of course, you can play along with the audio, which means you can enjoy jamming with your favourite artists. You can even plug in a microphone and sing along hearing your voice come through the speakers or headphones.
Arpeggiator / Auto-Harmonise
With the arpeggiator, you can play various arpeggios and other phrases automatically by simply pressing keys on the keyboard. Both arpeggio and stroke play are available for guitar, which provides you with a wide range of versatility. An Auto Harmonize feature automatically adds harmony to melody notes you play with your right hand to add greater depth to your melodies.
5 Year Warranty
All Casio keyboards, digital pianos and synthesisers purchased from an authorised Australian retailer are backed by a 5 year warranty.*
*warranty conditions apply.
CASIO WK220 Specifications:
Keyboard: 76 piano style size keys
Touch Response: 2 types, Off
Polyphony: 48 notes (24 for certain tones)
Built-in Tones: 600
Up to 8 samples(Melody Sampling: 5, Drum Sampling: 3)*, Up to 10 seconds
Functions: Layer, Split, Piano/Organ button
Reverb: 1 to 10, Off
Chorus: 1 to 5, Off
Metronome Beats per Measure: 0, 2 to 6
Tempo Range: 30 to 255
Song Bank Built-in Songs: 152
Song Bank User Songs: Up to 10*
Step Up Lessons: 4 (Listen, Watch, Remember, Auto)
Lesson Part: L, R, LR
Lesson Functions: Repeat, Voice Fingering Guide, Note Guide, Performance Evaluation
Music Challenge: 20 notes
Auto Accompaniment Built-in Rhythms: 180
User Rhythms: Up to 10 (Accompaniment Edit)*
Chord Book Function: Chord guide
Registration Memory: 32 (4 setups × 8 banks)
Recorder: Real-time recording, playback
Keyboard Play: 5 songs, 6 tracks
Playing Along with a Built-in Songs: 1 song (L, R, LR)
Memory Capacity: Approximately 12,000 notes (total for 6 songs)
Transpose: ±1 octaves (–12 to +12 semitones)
Octave Shift: Upper/Lower ±2 octaves
Tuning: A4 = 415.5 to 465.9 Hz (Initial Default: 440.0 Hz)
Preset Scales: 17
Music Preset: 305
One Touch Preset: 180
Auto Harmonise: 12 types
Arpeggiator: 90 types
MIDI: 16 multi-timbre received, GM Level 1 standard
Musical Information Function
Tone, Rhythm, Song Bank numbers and names, staff notation, fingering, pedal operation, tempo, measure and beat number, chord name, etc.
Inputs/Outputs
USB-Port: TYPE B
Sustain/Assignable jack: Standard jack (sustain, sostenuto, soft, rhythm)
Phones/Output jack: Stereo standard jack;
Output Impedance: 140O
Output Voltage: 4.5V (RMS) MAX Audio In jack: Stereo mini jack
Input Impedance: 9kO
Input Sensitivity: 200mV
Power: DC9.5V
Power Supply: Switch mode
Batteries: 6 D-size zinc-carbon batteries or alkaline batteries
Battery Life: Approximately 3 hours continuous operation on alkaline batteries
AC Adaptor: AD95
Auto Power Off: Approximately 5 hours continuous operation on zinc-carbon batteries
Speakers: 12cm × 2 (Output: 2.5W + 2.5W)
Power Consumption: 9.5V = 7.7W
Dimensions: 116.1cm × 38.5cm × 13.4cm
Weight: Approximately 6.9kg (without batteries)
Warranty: Five Years

* This data is stored in a shared memory area with a total capacity of approximately 320Kbytes (1Kbyte = 1,024bytes).
Design and specifications are subject to change without notice.
---
We Also Recommend